What Can Go Wrong Inside Your Toilet Tank?
There are all sorts of things that can go wrong with your toilet, but what about your toilet tank? Your homes toilet consists of two major parts; the bowl unit that rests on the floor, and the upper tank that holds the water that is released each time your flush the toilet. Unlike the bowl unit that rests on the floor, your toilet tank holds two important valves as well as the flush mechanism. Toilet tanks can be a costly repair! At ACCL Plumbing we know how frustrating it can be to have an un-functional or problematic toilet. In this article we will go over the top 5 things that can go wrong with your toilet and how you might be able to fix it yourself! – See Below
Toilet Tank – Things that can go wrong:
1. The Fill Valve
Fill valves refill the tank with water after each flush. Unfortunately  fill valves can break from a number of reasons. When fill vales are broken the entire valve assembly must be replaced. – Call a plumber for any fill valve replacements ! 
2. Flapper
Have you ever had a leaking or running toilet? – Chances are the leading cause was your toilet flapper. Flappers provide the seal for the flash valve and control the volume of water released to the bowl. Flappers are fairly long lasting, but will degrade over time. A small crack, chip, tangled chain, and stuck open flapper can lead to a running or leaking toilet.
If you notice your toilet is running, the flapper should be on of the first things you check, and if you discover that it needs to be replaced due to degrading over time contact your local home hardware store or call a plumber!
3. Flush Chain
The flush chain can become a problem just like the flapper, leading to a leaking, overflowing, or running toilet.
What happens to the chain? – See below
Broken Chain: A broken flush chain means your toilet will not flush.

   

Long Chain: If the flush chain is to long your toilet might flush weakly or not at all
Short Chain: A short flush chain can hold your flapper partially open leading to a running toilet.
If you notice any of the three chain types on your flush chain. A simple adjustment to the chain link or repair will work fine. – If you are unsure call your local plumbers today!
4.The Float
Sitting just above water level, the float is an air-filled ball attached to the arm. The float functions when your toilet is refiling after a flush. The float controls when the fill valve stops.- If your float valve is not functioning properly, damaged, or stuck its a good indication that it needs a repair or replacement.
5. The Flush Handle/lever
A broken toilet handle or lever is a fairly common plumbing problem. Toilet handles get tons of use and, like everything, they can eventually break and need a replacement.  A broken flush handle must be replaced! – replacements are available at your local hardware store and are typically installed without no tools.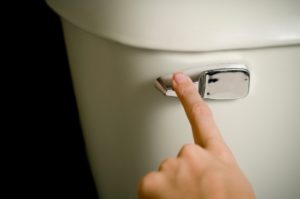 Want more information?
Rely on our expert Accl Plumbers
Contact us today for your free estimate!
If left unmaintained your toilet tank can create a lot of issues in relation to leaks, damages, flooding, and the unusable toilet. These issues can get quite costly to replace and repair ! – Getting a professional to take a look would be in your best interest!
Accl Plumbing offers repair and replacement services. We would be pleased to develop a guaranteed unique solution to keep your cleanouts, sewer blockages, clogged drains, burst pipes, broken water heater or over flowing toilets, free of any obstructions. We can help. Call 1(905) 448-5909 or visit our contact page to drop us a message http://acclplumbing.com/contact-us/