Keeping Your Sump Pump Cleaned and Maintained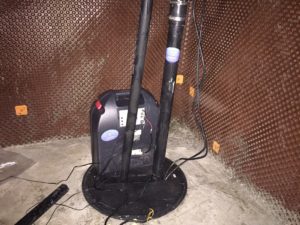 As we enter into the spring months, we will experience snow melts and thaws along with rainfalls. Unfortunately melting snow and rain falls are likely to cause floods and flooded basements. Thinking you have a functioning sump pump during these periods of snow melting and rainfalls only to find out it has malfunctioned due to an overdue maintenance check can become a disaster most homeowners don't expect. In this article the plumbers at ACCL Plumbing will go over a few simple maintenance checks for your sump pump, so you can have a peace of mind during the wettest months.
Testing your sump pump:
Its important to check on your sump pump periodically. Having a visual inspection should let you know if the sump pump is working property or if it is not, catching a sump pump problem early can be crucial to keeping water from snow melts and rain away from the inside of your home. Even when it's not rain or thaw season you should still check on your sump pump to ensure its operational. A simple way to test your sump pump is to pour a bucket of water into the sump pit – if it starts up automatically this means your sump pump is functional.
Cleaning:
Over time, your sump pump's filter screen will collect leaves, pebbles, debris, and mud. By not cleaning these substances out of your sump pump filter it can lead to clogs, standing water in your basement, or a premature shutoff of your pump. If you notice your filter needs to be cleaned its usually a good time to clean the entire pump and pit as well.
            How to clean the sump pump and pit?
Once you have cleaned the filter by wiping all the mud, debris, leaves, and pebbles away. Unplug your sump pump and carry it outside, along with the drain line. – clean this by using a hose to flush out clogs and debris. When finished before putting your sump pump back, thoroughly clean the sump pit while also removing anything that could clog the drain line. Once finished reconnect the pump and pour a bucket of water into the pit to insure your stump pump system is working.
Remember!
Having a sump pump will give you security and peace of mind during these wet rainy seasons, but only if you periodically, inspect, clean, and maintain it. Be sure to replace your aging sump pump before it shows signs of failure. If you have a batter backup sump pump be sure to check your owner's manual for the replacement schedule of the battery.
Click here for the different types of sump pumps
Have Questions about how to maintain your sump pump?
Let the licensed plumbers at ACCL Plumbing tackle the job for you:
Accl Plumbing offers repair and replacement services. We would be pleased to develop a guaranteed unique solution to keep your sump pump, frozen pipes, cleanouts, sewer blockages, clogged drains, burst pipes, broken water heater or over flowing toilets, free of any obstructions. We can help. Call 1(905) 448-5909 or visit our contact page to drop us a message http://acclplumbing.com/contact-us/