A plumbing snake is best described as a slender, flexible auger used to dislodge clogs in plumbing. An auger is basically a boring tool consisting of a bit, rotated by a crosswise handle. It works by moving materials or liquids from on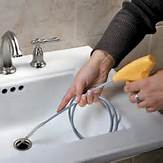 e area to another. When the tool is rotated, the materials or liquids move along the spiral to the desired location.
If neither cleaning the trap nor plunging clears a plumbing clog, your final weapon is a drain auger also known as the plumbing snake. It is also sometimes called a toilet jack or electric eel.
The plumbing snake is a coiled spiral snake usually about 1/4-inch thick with a handle on one end and works the opposite way that a plunger does: You push the snake into the clog and crank it to drive the snake farther into the obstruction. While parts of the clog break up and flush through the drain, the plumbing snake helps you gain access to the clog so that you can pull it out. Some plumbing snakes can fit as an attachment on an electric drill, giving it more power to force it through the clog. As the auger rotates, it also moves against the interior walls of the pipe, scraping off minerals and oil.
Plumbing snakes are especially handy because they're long enough to reach clogs that are deep within a drainpipe.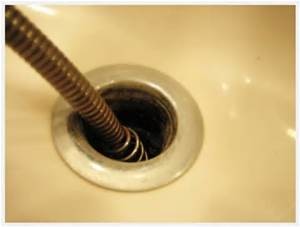 The best defense against clogs is to try and avoid them in the first place but here are a few tips:
Use a sink strainer to prevent garbage and foreign objects from entering the drainpipe.
Take care of the garbage disposal – always run cold water at full volume when grinding to move waste all the way through the drain lines. Fats and grease congeal and harden in cold water which can then be flushed through the system. The use hot water when grinding because it can dissolve fats and grease, which may then accumulate in the drain-line.Leave the running water for a full minute as well after you shut off the disposer.
Don't dump materials down your drain.