Frozen pipes and sewer backups
The spring season is upon us now but the warm weather can bring some unwelcomed surprises with it. With the risks of spring flooding around your house and the sudden strain on municipal drainage and sewer systems, the chances of having some unwanted flooding in your home or backup from the sewer system is greatly increased. Water pipes in your house or the ones connected to the outside may have suffered frost damage over the winter, and now that they are thawing out possible leaks and cracks are appearing. A professional plumber can track down the root cause of the problem and have it repaired immediately before the flooding damages gets any worse. Backed up sewers have the added problem of contamination and odour damage which is even more difficult to remove and repair.
A professional can also do preventative jobs such as inspecting your sewer lines for blockages or damage, and installing backflow prevention valves as your best protection. They would also be able to perform an inspection of all the water supply locations in your house for potential frost risk and will recommend improved insulation, ventilation or relocation repairs before any more damage can happen. A few small improvements done professionally can prevent most major sewer and water damage problems before they happen.
Basement flooding
The spring warm weather also brings the greater risk of basement flooding from all the extra water buildup around your house. This is when your basement and foundation structures are really put to the test to see how well they will stand up to the extremes. You can help reduce the water build up around your house by doing a few simple maintenance checks: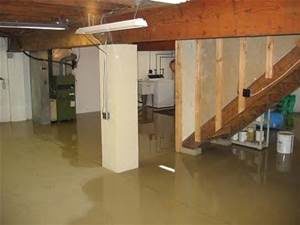 Remove excess snow and ice buildup from around the basement walls and window wells.
Make sure the grade around your house slopes away from the basement walls to help prevent water collecting there
Clear out the rain gutters and downspouts on the roof so they don't just overflow down the side of the house. Also make sure the downspout directs the water away from the house or into drains that go out to the storm sewers
If you have a sump pump check it regularly and makes sure it is working well and not blocked or burned out. Also having a battery backup can eliminate the risk of flooding during any major power outages to your house.