When you are planning and designing your new kitchen renovations it is important to get the advice and resources that are only available from professional plumbers. The kitchen sink, faucets and drains make up one of the most critical components of a well designed modern kitchen. The importance of reliable hot and cold water delivery and drainage provided by the kitchen plumbing features is critical for everyday food preparation, dish washing and cleaning up functions. This is not an area to take shortcuts.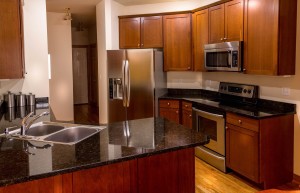 Starting your kitchen renovation designs by consulting experienced plumbing professionals can ensure that your kitchen renovation plans include all the latest and best suited pipes, drains and plumbing fixtures that will be required to incorporate into your new layout and functionality. Without adequate foresight you could make a lot of the common mistakes when it comes to the plumbing installations such as missing shutoff valves, adequate drain pipe venting and/or improper drain connections.
Don't forget about specialty appliances for your upgraded kitchen that will also require some plumbing services. There is normally a new automatic dishwasher, but it may not be located near the existing sink or water supply. Also having an extra cold water supply that is filtered for drinking would need additional installation work around the sink. Even modern combination refrigerators and freezers will often need their own water supply for ice cube makers and integrated water dispensers.
Plumbing professionals will make sure all the hot and cold supply pipes are in the right locations to fit all of the counter-tops, sinks, and appliances that will require them, incorporate adequate shutoff valves in accessible locations, and are connected to the fixtures correctly and securely. They will also install all the necessary drains, traps, vents and back flow elements required to give you years of trouble free service. And they will look at the overall plumbing systems in your house to make sure it can accommodate the new installations seamlessly. It is also a good time to perform a sewer line inspection or video pipe inspection to detect any potential leaks, blockages or damage to the downstream parts of your system.
Finally you can take advantage of the wealth of knowledge and business connections available from ACCL Plumbing to help you, in selecting and installing the most suitable plumbing fixtures for your kitchen renovation. We have access to the best professional quality and reliable water faucets, and kitchen sink packages. These can be integrated with the latest marble, stainless steel or designer counter-tops with the best skilled trades doing the job right the first time. We can also install any new or existing kitchen appliances that need plumbing connections too, such as dishwashers, ice cube makers and water filters.