KNOW WHAT YOU'RE GETTING INTO WITH JETTED TUBS
Jetted tubs may give you the feeling of a spa-like experience with the warm water and massaging jets. Before you install a jetted tub, you should consider all factors. Jetted tubs come with a lot of responsibility and a few trade-offs. In this article we will share the pros and cons of having a jetted tub.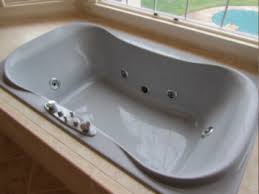 Pros:
Soaking in a warm, jetted bath whenever your want is a great way to relax and get rid of stress. For some people upgrading to a jetted bathtub could be one of the best purchases ever made.  Jetted tubs can contribute to your health or apart of physical therapy (if recommended by a physician). The tubs are also good for those with poor circulation, flexibility, and joint and muscle pain.
Cons:
Jetted tubs can be quite pricey starting around $1,000 and can even exceed $5,000 for higher end models. The tub price does not include installation. Since jetted tubs tend to be large deep and heavy the installation process can be quite complicated, you will need to have a large bathroom to comfortably accommodate the bath tub. In most cases it might be necessary to build an above-floor platform to support the tub. Considering installing a jetted tub? Its best you consult with an experienced plumber to discuss what needs to be done in order to install the tub where you want it.
Another thing to consider is that jetted tubs are larger than standard tubs, meaning they will use a lot more water – hot water. Expect an increase in your water bill as well as the possibility of your water heater being completely emptied due to filling up a large jetted tub. The cost of heating all that water and powering those air jets will add to your other utility bills, so the overall costs of the jetted tub lifestyle are important to take into consideration.
Cleaning Process:
Not only is there a bathtub surface to clean you also have a whole network of air tubes to consider. The cleaning process varies among models, as well as higher end models may have a self-cleaning cycle. Regular cleaning cannot be ignored if you neglect to clean your tub jets they can become a breading ground for mold, algae, and mildew.
Jetted tubs are all about relaxation, but you might find the noise they make to not be relaxing. Some tubs are louder than others, but none are completely silent. It can be a lot to consider and isn't a decision you will want to do on a whim.
Rely on our expert Accl Plumbers:
Accl Plumbing offers repair and replacement services. We would be pleased to develop a guaranteed unique solution to keep your cleanouts, sewer blockages, clogged drains, burst pipes, broken water heater or over flowing toilets, free of any obstructions. We can help. Call 1(905) 448-5909 or visit our contact page to drop us a message http://acclplumbing.com/contact-us/