Many water heaters sit out of sight until there is an issue with them that needs to be addressed.  Should there be a problem with it, there are a few solutions you can turn to without calling a professional.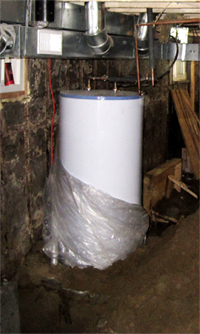 If there is too little hot water you can turn up the tanks thermostat, just be careful not to turn it up too high or it could be a scalding hazard.
If there is no hot water and your water heater is gas-powered it is likely the pilot light has blown out and need to be relit.  It could also be a heating element for electric, or thermocouple for gas, that need to be replaced.  These can be replaced easily by a professional and is not a project we recommend you take on yourself.
If you have smelly water (a sulphur or rotten egg smell) it means your water heater has been infected with bacteria.  Try flushing the tank and filling it with a water and hydrogen peroxide solution.  Allow it to sit for two hours before flushing it with clear water.  If this does not solve the problem call a plumbing professional to tackle the issue.
If your water tank is noisy it could be several problems.  The first and most likely is that your tank has sediment at the bottom of it and the heating system is burning the sediment.  Once you drain your water tank and refill it the issue should be resolved.  The second situation that might be causing your water tank to make noise is the heating element starting to burn out.  You will need a service professional to replace the heating element.
If your tank is leaking then it is beyond repair and you will need to purchase a new once.  At the first sign of a leak call a professional or your 30 or 60 gallon tank might leak all over your basement.
For any questions of if you need any help please call our ACCL Plumbing 24 hour emergency line; 1 (866) 701-8484.